Dental Crowns – Rockwall, TX
Regain a Strong, Healthy, and Beautiful Smile
Did you know that your tooth enamel is harder than your bones? Unfortunately, there are still plenty of ways you could end up damaging it. Also unlike your bones, your teeth can't naturally repair themselves when they become weakened or cracked. If you have injured teeth, Spillman Family Dental of Rockwall can help you regain a strong, healthy, and beautiful smile with custom-made dental crowns! This reliable type of restoration can improve the appearance and function of teeth while preventing long-term issues. Give us a call today to schedule your next appointment and ensure your smile is protected!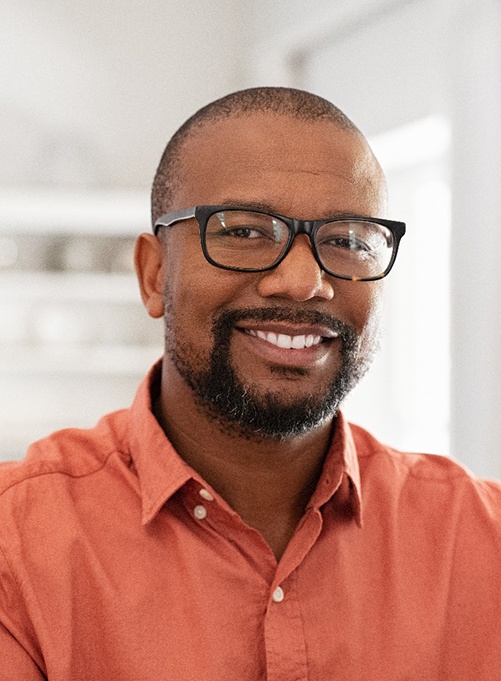 Why Choose Spillman Family Dental of Rockwall For Dental Crowns?
Beautiful, Durable, & Long-Lasting Restorations
Team of Compassionate Dentists with Decades of Combined Experience
We Accept Dental Insurance & Will Help Maximize Your Benefits
What Is a Dental Crown?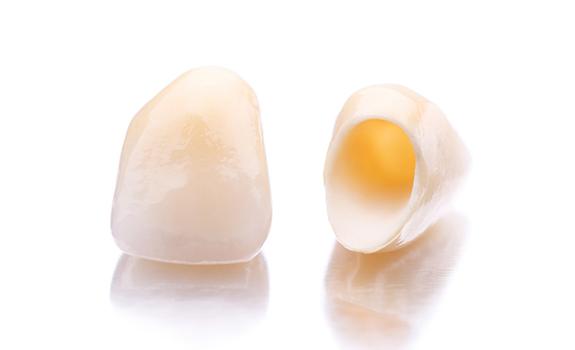 Your natural teeth are made up of two distinct parts: the crown that you see above the gumline, and the roots hidden beneath it. Since teeth can't repair themselves, leaving an injured or decayed crown untreated will only allow the problem to get worse. Thankfully, with a custom-made dental crown, we can protect the tooth. This restoration is a tooth-shaped cap that encapsulates the entire visible surface of a tooth, which strengthens the compromised structure, enhances its appearance, and prevents further damage. Dental crowns are often needed when:
A tooth is cracked or broken
A tooth is weakened by extensive decay or large filling
A tooth is small, misshapen, or otherwise cosmetically imperfect
A tooth has just been repaired with root canal therapy
A tooth is being replaced with a dental implant
The Process of Getting a Dental Crown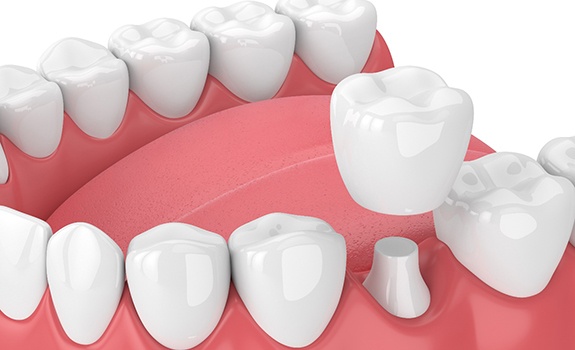 Getting a dental crown typically takes about two appointments. First, we'll make room for the new crown by removing a thin layer of enamel. We'll roughen the surface of your tooth and take impressions, then we'll fit you with a temporary crown. You'll wear this temporary restoration for about two weeks while your permanent crown is being fabricated. Then, you'll return to our office to have your temporary removed and your new, custom-made crown cemented into place. We'll make sure that you're satisfied with your results and that your bite is comfortable, and then you'll be ready to go out and enjoy your newly repaired smile!
The Benefits of Repairing Teeth with Dental Crowns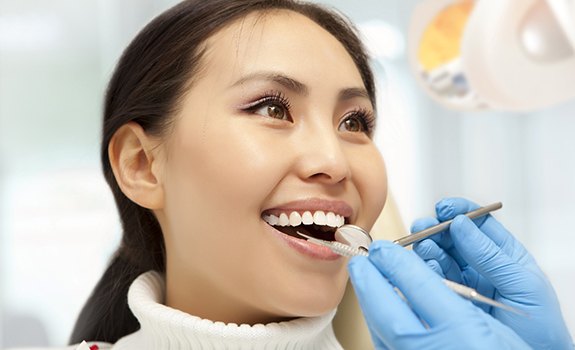 Dental crowns are easily one of the most sought-after restorative dental treatments, and it's easy to see why! They offer numerous impressive benefits, including:
Results that can last for many years
A relatively short treatment timeline
Beautiful and incredibly natural-looking results
Restored ability to chew without pain or further damage
Repairing teeth that would otherwise need to be extracted
Minimized risk of severe future complications
Dental Crowns FAQs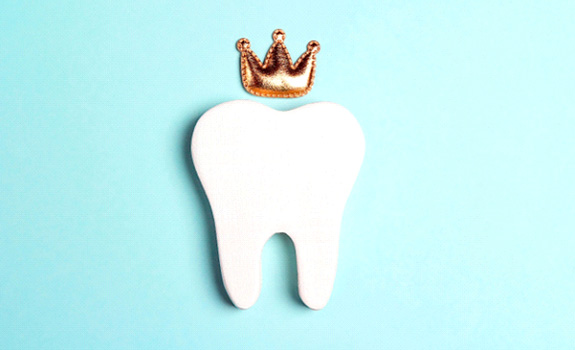 If you're aiming to restore a severely damaged or decayed tooth, a dental crown might be your best bet! However, you might understandably have some questions about the procedure that you'd like answered before you feel comfortable about committing to it. Our team has gathered some of the most frequently asked questions about dental crowns and their answers so that you can feel informed and confident about getting your tooth the help it needs! Of course, if you have any additional questions about dental crowns in Rockwall, don't hesitate to give us a call ; we're happy to help!
Does It Hurt to Get a Dental Crown?
Our team will numb your mouth prior to the beginning of the procedure, so you don't have to worry about any pain or discomfort at all while you're seated in the chair. That said, you might experience some minor soreness or sensitivity in the days following your visit, especially if you also underwent root canal therapy before receiving your crown. However, this discomfort is often fleeting and can usually be managed with the use of over-the-counter pain medications. If your pain persists, don't hesitate to let us know so we can help!
Are Dental Crowns Permanent?
Even though dental crowns are durable, they sadly won't last forever. With proper oral care, you'll be able to keep them for as long as 5 to 15 years before they need to be replaced. However, it's worth noting that the procedure for receiving a crown is irreversible. A tooth that has been reshaped in preparation for a crown will not regrow the enamel that was removed, so a crown will always be necessary to protect it moving forward!
Do Dental Crowns Get Cavities?
The good news here is that it's impossible for a dental crown to develop cavities; however, the tooth underneath the crown is still quite vulnerable! In fact, a tooth with a crown has the exact same risk of decay as a tooth without a crown. Poor oral hygiene enables bacteria and plaque to collect around the gumline where the tooth meets the crown. These infiltrative bacteria can also slip underneath the crown itself and wreak havoc on the underlying tooth. This means that brushing, flossing and regularly visiting us for preventive care is just as important as it was before you received your crown!
How Do You Know When a Dental Crown Needs to Be Replaced?
The only way to know for sure whether a crown needs replacement is to come in and have us take a look; we can take X-rays to determine if there are any warning signs that indicate your crown's approaching the end of its lifespan. Some things we'll look for and ask about include:
Pain – If there's decay underneath the crown, it needs to be removed so that the cavity can be treated before a replacement is attached.
Instability – If it feels like the crown is loose, especially when chewing something sticky, the crown is likely failing.
Noticeable worse appearance – If the crown is chipped or discolored, it can negatively affect your self-esteem, which is reason enough to replace it! A dark line around the base of the crown might also indicate that it's sustained a great deal of wear and tear and might soon need replacement.
Dental Crowns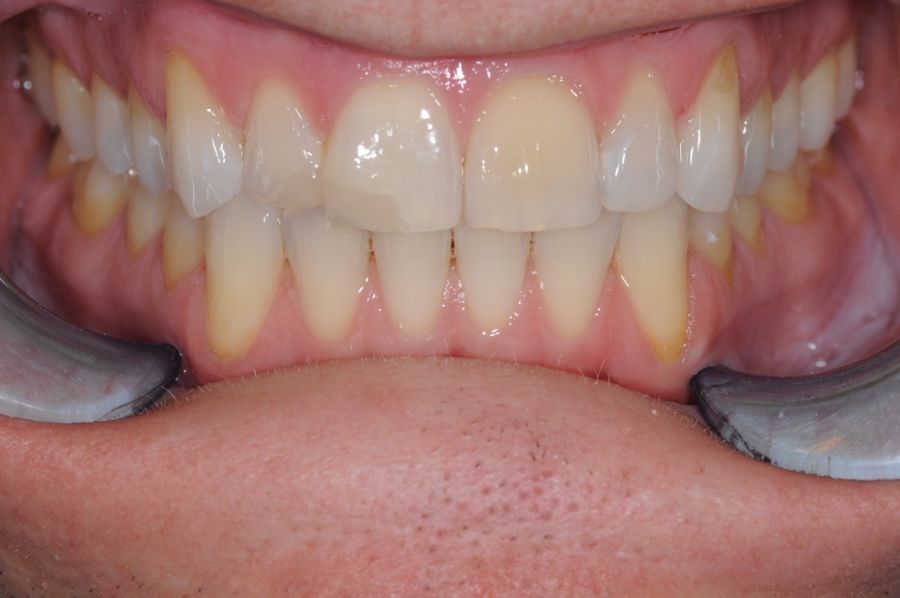 Before
After