Veneers – Rockwall, TX
Make Your Dream Smile a Reality
Do you find yourself wishing you could completely redesign your smile because of chipped, cracked, stained, or otherwise cosmetically flawed teeth? Imperfections in your pearly whites can take a huge toll on your confidence and quality of life. Thankfully, at Spillman Family Dental, we can make your dream smile a reality with dental veneers! In as little as two appointments, we can completely transform the size, shape, color, and overall appearance of your problematic teeth. Give us a call today to schedule a consultation with your Rockwall cosmetic dentist to learn more about this incredibly popular treatment!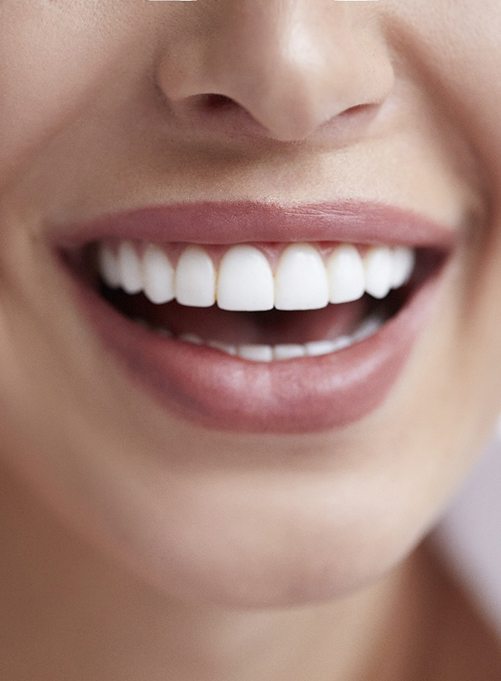 What Issues Can Veneers Fix?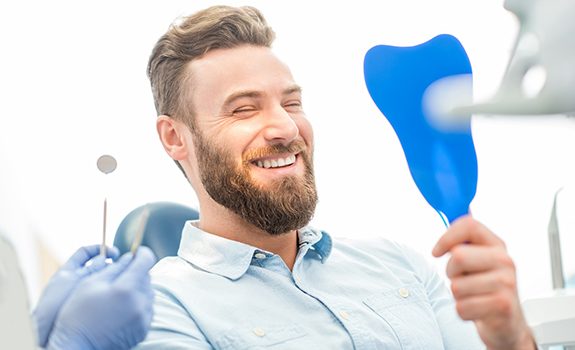 Since veneers are such a versatile treatment, they can be used to address a wide variety of issues at once. Veneers are ultra-thin tooth-shaped shells of dental ceramic. Each one is custom-made to fit perfectly over the front side of a tooth to completely change its appearance. They're often used to conceal issues such as:
Chips, cracks, or other noticeable damage.
Stubborn stains that can't be lifted with teeth whitening.
Small gaps between teeth.
Teeth that are small, misshapen, or worn-down.
What's the Process for Getting Veneers?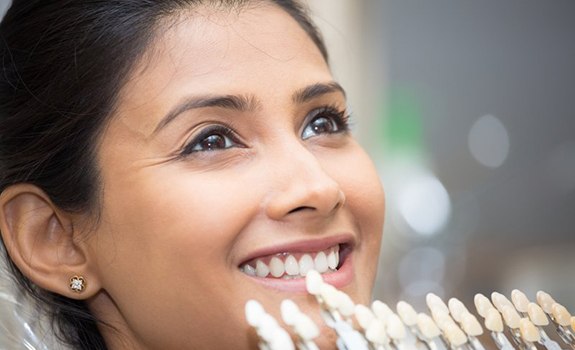 In nearly every case, veneers can be designed, created, and placed in just two quick and easy appointments. During your first visit, the tooth or teeth will be prepared by removing a thin layer of enamel. Don't worry—this step is quick and virtually painless, and it ensures that your veneers don't look awkward or bulky. Next, we'll take digital impressions of your teeth and send them off to a dental laboratory, where they'll be used to create your veneers.
Before you leave, we'll place temporary veneers on your prepared teeth to keep them safe and comfortable in the meantime. Before you know it, we'll have you come back to our office for your second appointment. Your temporary veneers will be removed, and your beautiful, customized veneers will be securely bonded in place with a special curing light. We'll make any necessary final adjustment to ensure your bite is comfortable, then you'll be ready to show off your brand-new smile to the world!
What Are the Benefits of Veneers?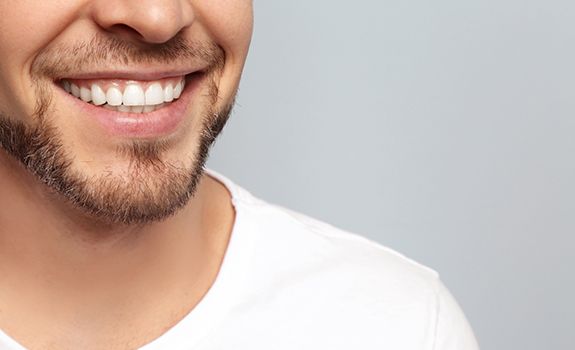 When it comes to cosmetic dentistry, veneers are one of the most popular treatments, and it's easy to see why! They offer a variety of unique benefits, including:
Biocompatible and natural-looking: Dental ceramic is easy on the gum tissue and seamlessly lifelike.
Stain resistant and durable: Veneers are reliably strong and resistant to stains, so you can continue to enjoy your favorite meals!
Quick and easy treatment: Instead of undergoing several long, complex treatments, veneers can correct multiple issues at once in just two minimally invasive appointments.
Easy to care for: Veneers won't require you to change your dental routine or use special dental products. Just brush and floss them along with the rest of your smile!
Long-lasting results: With the proper care and regular dental checkups, you can easily expect your veneers to last a decade or more!
Ready to get the smile of your dreams? Call us today to schedule your consultation and discover if veneers are right for you!