Veneers – Rockwall, TX
Make Your Dream Smile a Reality
Do you find yourself wishing you could completely redesign your smile because of chipped, cracked, stained, or otherwise cosmetically flawed teeth? Imperfections in your pearly whites can take a huge toll on your confidence and quality of life. Thankfully, at Spillman Family Dental, we can make your dream smile a reality with dental veneers! In as little as two appointments, we can completely transform the size, shape, color, and overall appearance of your problematic teeth. Give us a call today to schedule a consultation with your Rockwall cosmetic dentist to learn more about this incredibly popular treatment!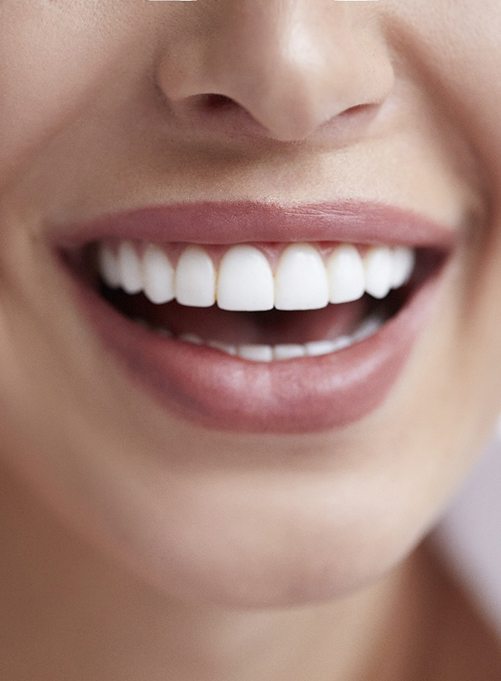 What Issues Can Veneers Fix?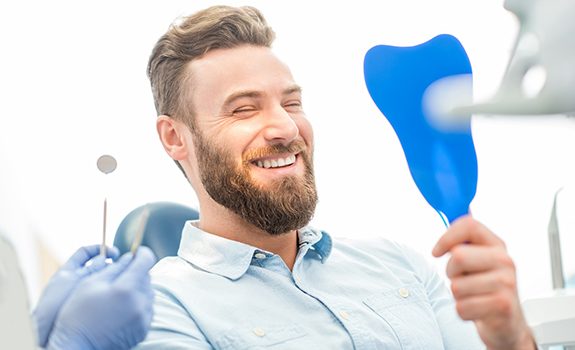 Since veneers are such a versatile treatment, they can be used to address a wide variety of issues at once. Veneers are ultra-thin tooth-shaped shells of dental ceramic. Each one is custom-made to fit perfectly over the front side of a tooth to completely change its appearance. They're often used to conceal issues such as:
Chips, cracks, or other noticeable damage.
Stubborn stains that can't be lifted with teeth whitening.
Small gaps between teeth.
Teeth that are small, misshapen, or worn-down.
What's the Process for Getting Veneers?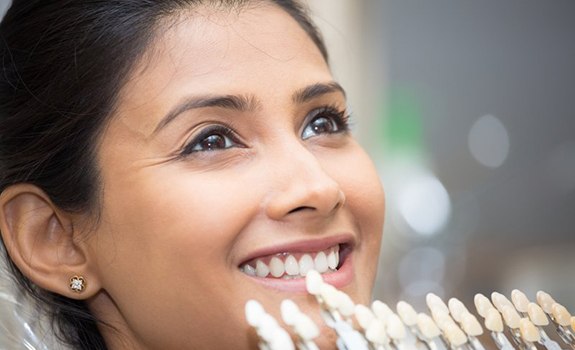 In nearly every case, veneers can be designed, created, and placed in just two quick and easy appointments. During your first visit, the tooth or teeth will be prepared by removing a thin layer of enamel. Don't worry—this step is quick and virtually painless, and it ensures that your veneers don't look awkward or bulky. Next, we'll take digital impressions of your teeth and send them off to a dental laboratory, where they'll be used to create your veneers.
Before you leave, we'll place temporary veneers on your prepared teeth to keep them safe and comfortable in the meantime. Before you know it, we'll have you come back to our office for your second appointment. Your temporary veneers will be removed, and your beautiful, customized veneers will be securely bonded in place with a special curing light. We'll make any necessary final adjustment to ensure your bite is comfortable, then you'll be ready to show off your brand-new smile to the world!
What Are the Benefits of Veneers?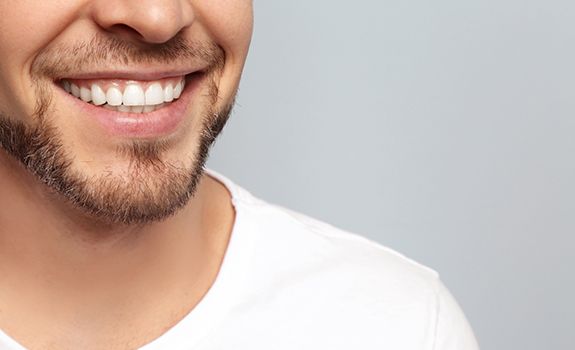 When it comes to cosmetic dentistry, veneers are one of the most popular treatments, and it's easy to see why! They offer a variety of unique benefits, including:
Biocompatible and natural-looking: Dental ceramic is easy on the gum tissue and seamlessly lifelike.
Stain resistant and durable: Veneers are reliably strong and resistant to stains, so you can continue to enjoy your favorite meals!
Quick and easy treatment: Instead of undergoing several long, complex treatments, veneers can correct multiple issues at once in just two minimally invasive appointments.
Easy to care for: Veneers won't require you to change your dental routine or use special dental products. Just brush and floss them along with the rest of your smile!
Long-lasting results: With the proper care and regular dental checkups, you can easily expect your veneers to last a decade or more!
Ready to get the smile of your dreams? Call us today to schedule your consultation and discover if veneers are right for you!
What Is the Cost of Veneers?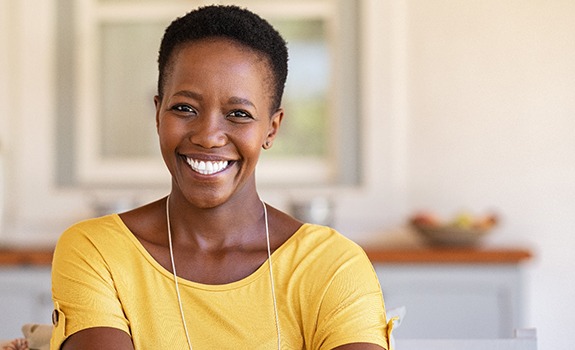 Like other customized dental treatments here at Spillman Family Dental, each veneers case is personalized according to the individual. While one person may need one or two veneers, another may require a whole set to give them a more radiant, confident smile. In other words, we won't know how much your Hollywood-worthy smile will cost until Dr. Spillman performs a dental exam and talks with you about your needs and goals. At that point, we can give you an accurate estimate for your specific case.
Cost of Cosmetic Dentistry: What's Right For Me?
Compared to many other cosmetic procedures, veneers tend to be the most expensive. Some patients may be able to take advantage of these more cost-effective options and still enjoy a flawless smile. For other patients, veneers are the best option for achieving the desired results.
Braces: Although veneers can correct minor gaps or crooked teeth, braces may be a wiser investment if your bite is also misaligned. However, keep in mind that braces require much longer treatment, whereas veneers usually involve only two appointments.
Teeth Whitening: If you want veneers just to cover up your yellow or discolored teeth, you may benefit more from teeth whitening. After all, veneers are a permanent procedure, and most cases of discoloration can be addressed with whitening.
Direct Bonding: Less expensive than veneers, direct bonding works for many of the same problems, but the composite resin doesn't last nearly as long as the porcelain.
Veneers: These durable ceramic coverings may be the perfect solution for your smile if your teeth are resistant to whitening, if you want a treatment with long-lasting results, or if you are on a tight schedule.
How to Make Veneers Affordable
At Spillman Family Dental, we do everything we can to help our patients reduce their out-of-pocket costs. Unfortunately, when it comes to cosmetic work, dental insurance companies rarely cover these expenses because it is often viewed as unnecessary or non-essential. Even though cosmetic procedures may be elective, you can still take advantage of CareCredit, which is third-party financing for medical and dental costs. We can walk you through the application process, and if you qualify, you could get a low or even 0 percent interest rate. If you have questions about CareCredit or any other financial questions, don't hesitate to schedule a consultation with us.
Veneer FAQs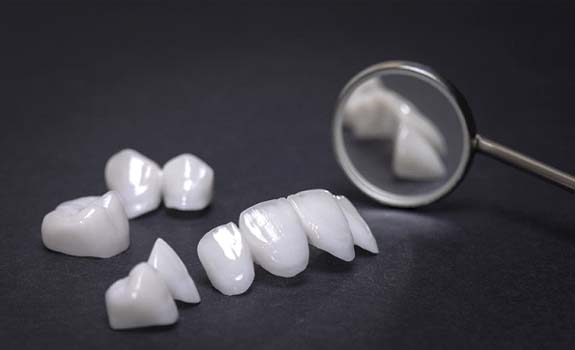 Before you commit to getting veneers in Rockwall, you probably have several questions about the treatment. After all, it's a pretty big decision, which means it cannot be made lightly. Luckily, we're here to clear up any doubts in your mind so you can confidently move forward with the process. That said, we've compiled a list of responses to common questions patients ask us about veneers. If you don't see your question on the list below, don't hesitate to reach out to us for an answer!
Are Veneers Permanent?
Since veneers eventually require replacement, they're not considered permanent. However, the process for getting them is irreversible. In preparation for veneers, our cosmetic dentist in Rockwall will remove a thin layer of enamel to ensure successful treatment. But unlike hair and nails, removed enamel will never grow back. That's why when teeth are prepared this way, they will always need to be covered with veneers or crowns.
What Can You Eat with Veneers?
At the end of your initial visit, you'll receive temporary veneers to protect your prepared teeth while you wait for your permanent ones to be made. During this waiting period, you'll need to avoid hard foods like ice, raw fruits and vegetables, or candy as they can damage your temporary restorations. The good news is that once your permanent veneers are in place, you won't need to exercise as much caution anymore. However, it's still a good idea to be careful when eating sticky, dark-colored, crunchy, hot, or cold foods and drinks. Additionally, you'll want to drink alcohol sparingly as it can weaken the bonding material holding your restorations in place.
Do Veneers Feel Natural?
Most patients claim that properly placed veneers feel extremely natural inside their mouths. After some time, they reportedly don't even notice them while eating or speaking! Since the restorations are custom-made to fit your smile perfectly, the likelihood of them feeling unnatural is very slim. The removed enamel helps keep the veneers from protruding uncomfortably. Also, because the porcelain material is very smooth, it does not irritate the soft tissues inside your mouth.
Is It Painful to Get Veneers?
When it comes to any type of dental work, many people are concerned about whether or not the procedure will be painful. Luckily, the veneer process is much more comfortable than you might think! Our cosmetic dentist in Rockwall will numb you for veneer placement, so you shouldn't feel any discomfort during the procedure itself. However, it's normal to feel slight pain and sensitivity post-treatment. Of course, the level of discomfort you feel depends heavily on the number of veneers placed. Two to four usually cause little to no pain, while eight or more veneers can lead to soreness in the gums and the jaw. Luckily, these effects are temporary and can be managed with painkillers and saltwater rinses.