Dentures – Rockwall, TX
Regain a Complete, Reliable Smile
Are missing teeth holding you back in life? Tooth loss can have a significant impact on your ability to chew comfortably, speak clearly, and smile confidently. What's more, missing several or all your teeth can increase your risk of tooth decay, oral infections, gum disease, and many other issues. At Spillman Family Dental of Rockwall, we can help you regain a complete, reliable smile with custom-made dentures!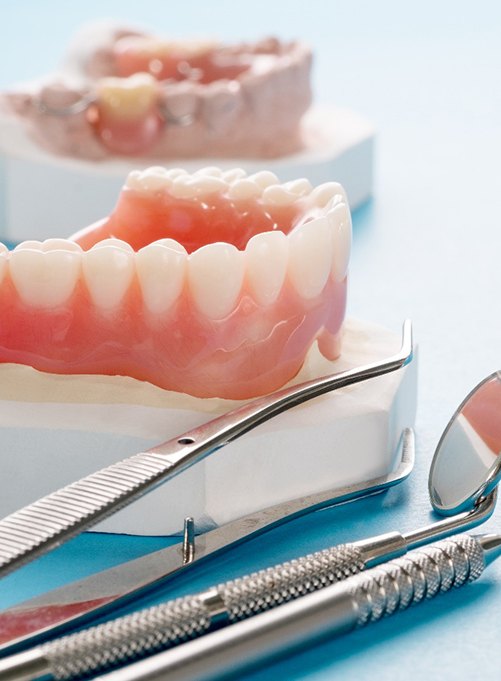 Why Choose Spillman Family Dental of Rockwall For Dentures?
Precise Custom Restorations for Reliable Fit
Experienced and Friendly Dental Team
High Quality Materials for Lifelike & Lasting Results
What Types of Dentures Are There?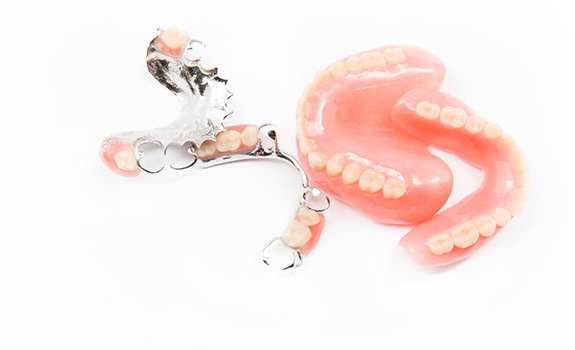 While dentures have been used for hundreds of years, modern restorations are more lifelike, comfortable, and reliable than ever before! Custom-made replacement teeth are crafted out of natural-looking materials and set into a gum-colored acrylic base. Depending on the extend of your tooth loss, we may recommend:
Partial Dentures
For patients who still have some remaining healthy teeth, a partial denture can be fitted between and around them like a puzzle piece. They're held in place with small, discreet metal clasps wrapped around the natural tooth structure for seamless results.
Full Dentures
Patients who are missing an entire arch can replace all their teeth at once with a full denture. This precisely made complete set of pearly whites rests comfortably on top of your gums. Thanks to its custom fit, a strong natural suction is created to keep the restoration securely in place.
Implant-Retained Dentures
Alternatively, dental implants can be used to anchor a set of dentures into position. Implant-retained dentures gain their support from small titanium posts that are placed directly into the jawbone. This unique method provides vastly improved functionality, unmatched comfort, and can potentially last a lifetime!
Who Is a Good Candidate for Dentures?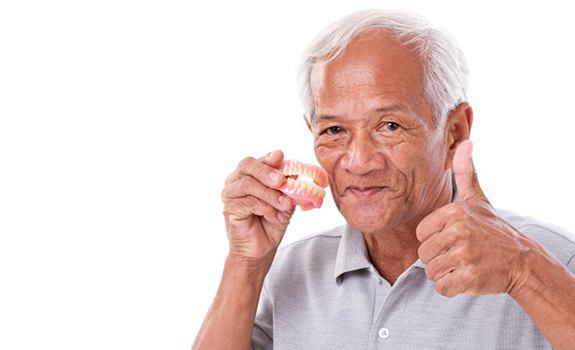 If you're missing many or all your teeth, there's a good chance that you're a great candidate for dentures. Before being fitted with traditional dentures, you'll need to be free of oral health conditions life tooth decay and gum disease and have any irreparably unhealthy teeth removed. For implant-retained dentures, you'll also need to be in good overall health and have adequate jawbone density for the dental implants to be successful. During your initial consultation, we'll help you choose which type of denture is right for you and ensure your oral health is on track.
What Are the Benefits of Dentures?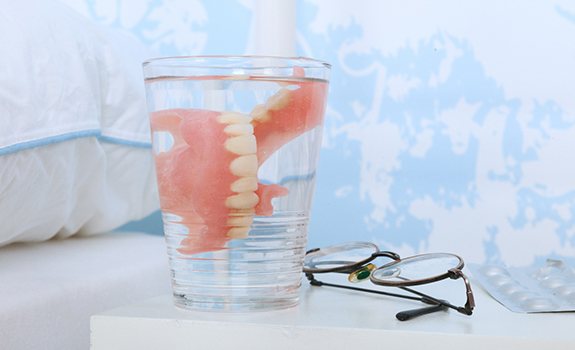 Traditional dentures are a classic way to complete smiles because of benefits like:
Improved appearance: Modern dentures are incredibly lifelike and will help fill out your facial features to restore a more youthful appearance.
Restored functionality: Treating your tooth loss with dentures will improve your ability to speak and eat. You'll also be able to enjoy a full, varied diet once again!
Speed of treatment: Traditional dentures can replace your missing teeth and dramatically improve your quality of life in a matter of just a few weeks.
Cost-effectiveness: When it comes to tooth replacement options, traditional dentures are one of the most affordable options and will sometimes be partially covered by insurance.
Are you ready to restore your complete, confident smile? Give us a call today to schedule your consultation and see if dentures are right for you!
Understanding the Cost of Dentures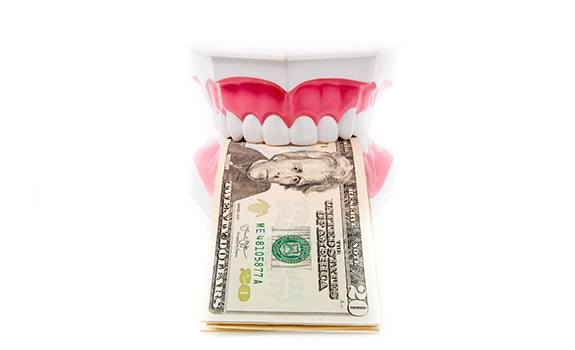 Whether you're missing just a couple or an entire arch of teeth, your mouth is completely unique; as a result, what works for another patient may not work for you. There is no "typical" case, which is why we can't provide a general quote for the typical cost of dentures. However, we share below what you can expect during our conversation about the cost of dentures, so you can come more prepared with questions about your case. Schedule your consultation with your denture dentist in Rockwall today!
Factors that Affect the Cost of Dentures
In order to determine the cost of your dentures, we need to answer the following questions:
How many teeth are being replaced? The more teeth that need to be replaced, the higher the cost.
Where are the missing teeth located in the mouth? For partials, the location of the missing teeth will affect what kind of clasps or attachments will be used.
Does any preliminary work (e.g., tooth extraction, gum disease therapy, implant placement) need to be performed?
Once Dr. Spillman has had a chance to examine your mouth, he can put together a treatment plan customized to you, and we'll be able to discuss specific numbers.
Are Implant Dentures More Expensive?
It depends on your outlook. In the short term, yes, implant dentures tend to cost more than traditional ones. Implant treatment involves surgically placing the post into the jawbone before having the restorations attached on top. However, when you have a more long-term approach, the benefits of implant dentures far outweigh the cost. In fact, you may even find that they save you money! After all, traditional dentures need to be adjusted frequently and substituted with a new one about every five to seven years. Implant dentures, on the other hand, can go for decades without replacement.
Does Dental Insurance Cover Dentures?
Generally, insurance companies do cover part of the cost of dentures in Rockwall. Keep in mind, however, that many dental insurance plans do not cover implant placement, only the restorations. We'll be happy to look through the details of your plan to find ways to save you as much as possible on your traditional or implant dentures.
Other Options for Making Dentures Affordable
What if the out-of-pocket costs are too much for you to pay upfront? You don't have to worry or postpone getting your replacement teeth because of money issues. We accept payment through CareCredit, a trusted third-party financier. CareCredit breaks up the total into easier monthly payments at a reasonable interest rate. If you qualify, you can even have 0 percent interest! Let us know if you are interested in applying for CareCredit, and we can help you through the process.
Dentures FAQs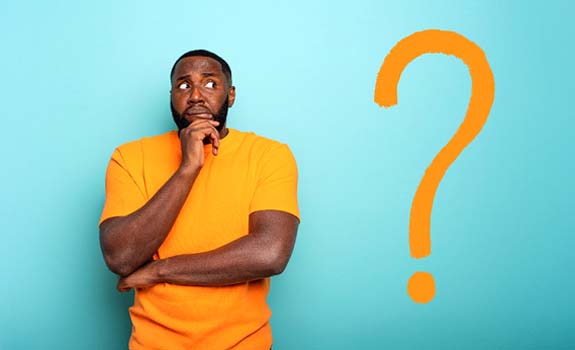 Want to learn more about dentures in Rockwall? Choosing the best way for replacing your missing teeth is a big decision, and we want you to feel confident in whatever choice you make. We invite you to visit us for a consultation, where we'll be happy to walk you through everything you need to know about dentures and personally answer all your questions. In the meantime, we've gathered a few of the most common questions we get about dentures below so you can learn more! If you don't see the information you're looking for, don't hesitate to give us a call !
Can I Get Dentures Right After Having My Teeth Pulled?
We will always do everything we can to preserve your natural teeth. However, if you have some teeth that are severely decayed or broken, it may be more cost-effective for you to have them extracted and replaced with a full or partial denture. In these cases, you'll no doubt likely be anxious to get your new dentures right away. However, you will likely need to wait four to eight weeks after having your teeth extracted before we can begin fitting you for dentures. This should give your gums and mouth enough time to heal so we can take accurate impressions and make a set of dentures that fits snugly.
Can I Sleep with My Dentures?
When you first get your dentures, it will take some time for your mouth to adjust to them. In most cases, we tell patients to wear their new dentures for 24 hours a day during the first week to help speed that process along. After that however, you'll need to take your dentures out every night before you go to bed. Overnight soaking is the best way to thoroughly clean your dentures and get rid of any plaque or bacteria that's built up on them throughout the day. Plus, it will give your gums a chance to rest.
Am I Too Young for Dentures?
It's no secret that tooth loss becomes more common with age. However, significant tooth loss can happen at any time of life for a variety of reasons! Thankfully, dentures are an excellent choice for adults of all ages who need to replace missing teeth. As long as your jawbone has stopped growing and you've lost several (or all) of your teeth, it's likely that you can qualify as a good candidate for dentures.
Is Wearing Dentures Uncomfortable?
As we mentioned, there is an adjustment period once you begin wearing your dentures. Your gums will need time to get used to the presence of the denture base. It's not uncommon to experience some slight irritation or soreness in the gums as the tissue adapts. Fortunately, these symptoms should be relatively mild and easy to manage with cool foods and drinks as well as over-the-counter pain relievers. If your discomfort does not ease within a week or seems to be getting worse, give us a call! We'll take a look to see if there's an underlying issue or if your dentures need to be readjusted.