Implant Dentures – Rockwall, TX
Functional Prosthetics for a Healthier, Longer-Lasting Smile
At Spillman Family Dental of Rockwall, Dr. Travis Spillman believes in the benefits of traditional dentures. However, when you compare their upkeep, stability, and functionality against implant dentures of Rockwall, they often leave much to be desired. Instead of worrying about whether your prosthetic might accidentally slip while talking to others, you can rest easy knowing your new smile is permanently in place and going to provide the function you need to feel confident in everyday life. No longer will you need to spend your hard-earned dollars on denture adhesives or special cleaning supplies. Instead, you can enjoy dental implants that look, act, and feel just like regular teeth. If you're ready to learn more about these unique tooth replacement solutions, give our office a call and schedule an appointment today.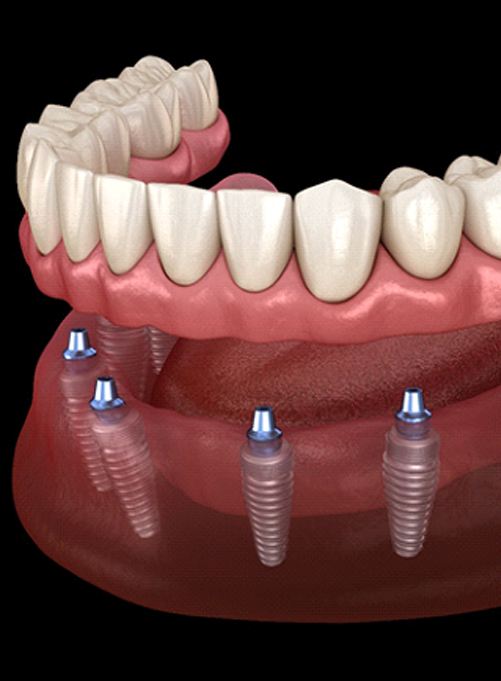 What Are Implant Dentures?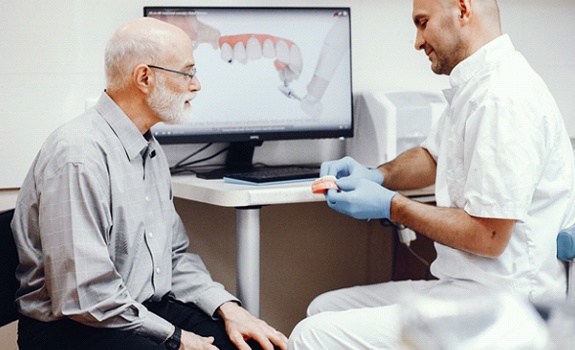 Implant dentures are permanent, stable, and fully functional prosthetics that are surgically placed into the jawbone and provide a support system for a customized restoration (i.e., denture). For patients who are missing an entire row of teeth, a dentist can use between 4 and 8 dental implants to secure new teeth in place. With millions of people in the United States already enjoying the benefits of these prosthetics, their longevity of more than 30 years and ability to prevent facial collapse cannot be overlooked.
When meeting with your implant dentist in Rockwall to discuss the potential for implant dentures, one of the most important factors will be to decide which type of denture you prefer:
Fixed/Permanent Implant Dentures
This hybrid prosthesis requires ample jawbone density and between 4 and 8 dental implants. Designed to fit permanently, it cannot be removed by anyone other than a skilled professional. This allows you to have a more stable smile that is easy to clean and maintain.
Removable Implant Dentures
The other option is a removable denture, also known as a Snap-On denture. Requiring only 2-5 implant posts, you do not need as much jawbone density as a fixed prosthetic. Held in place by a bar- or ball-retained device, these can be easily removed in the evenings for thorough cleanings.
The Implant Denture Process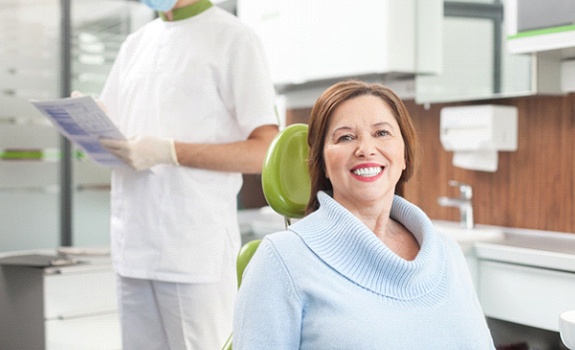 Although receiving implant dentures does take more time than if you were to choose a traditional denture, they are well worth the time and money. The process may require ample patience, but you can expect phenomenal results once you are fully healed and receive your customized restoration.
While no two patients are the same, the steps a person must follow are the same:
An initial consultation with Dr. Spillman to discuss eligibility. It will be determined if you require preliminary treatment before moving forward with implant dentures. These may include (i.e., bone grafting, sinus lift, periodontal therapy).
Dental implant surgery, which involves receiving local anesthesia before small incisions are created in your gums to expose the underlying jawbone. Your implants will be placed into the corresponding areas before the gum tissue is closed and protective healing caps are placed over your implants.
You'll spend 3-6 months recovering at home, allowing osseointegration to occur, which is the fusing of the bone and tissue before returning to have your metal abutments put into place.
You'll receive your finalized denture, which will look and feel completely natural when secured.
Am I a Candidate for Implant Dentures?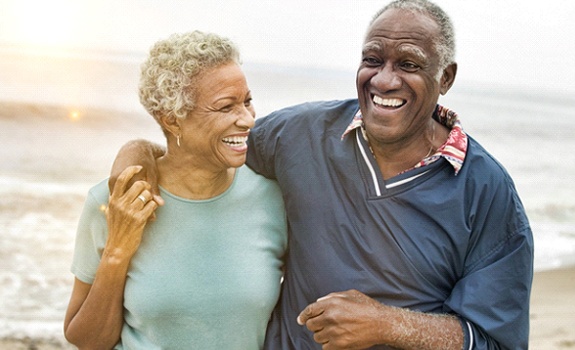 During your initial consultation, Dr. Spillman will examine your oral and facial structures using advanced dental technology. Using the captured images to fully view the intricate details of your tissues, nerves, and jawbone, he will consider the following factors to determine if you are qualified to immediately move forward with dental implant surgery:
Do you have enough jawbone density? Depending on the type of denture you want, you may require a bone graft before undergoing the surgical portion of the process.
How healthy are you? You must have a healthy immune system to undergo minor oral surgery. Otherwise, your dental implants in Rockwall could fail.
What is your oral health like? If you show signs of periodontal disease, we will need to administer periodontal therapy to improve the health of your gum tissue.
Benefits of Combining Dentures & Dental Implants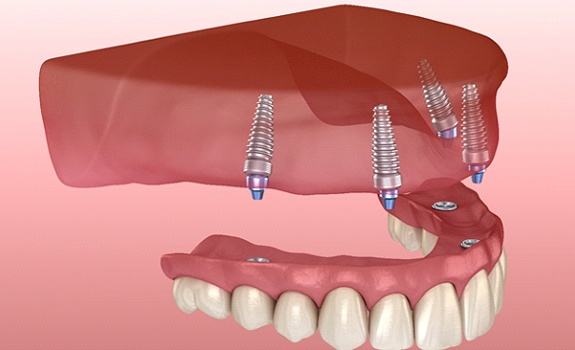 Dental implants offer an endless array of benefits on their own. However, once you combine them with a customized denture, you will find:
You can enjoy a nutrient-rich diet that allows for easier chewing and eating, making it possible to consume food without worrying about your prosthetic slipping or falling out.
You have greater jawbone stability that doesn't result in facial collapse, which is often common among individuals wearing traditional dentures.
You have a lower risk for systemic issues like osteoporosis, diabetes, and heart disease because you have replaced your missing teeth with dental implants.
Your procedure will lend a high success rate when seeing a skilled implant dentist for the surgical procedure.
They are more cost-effective than traditional dentures, allowing you to save more money in the long run.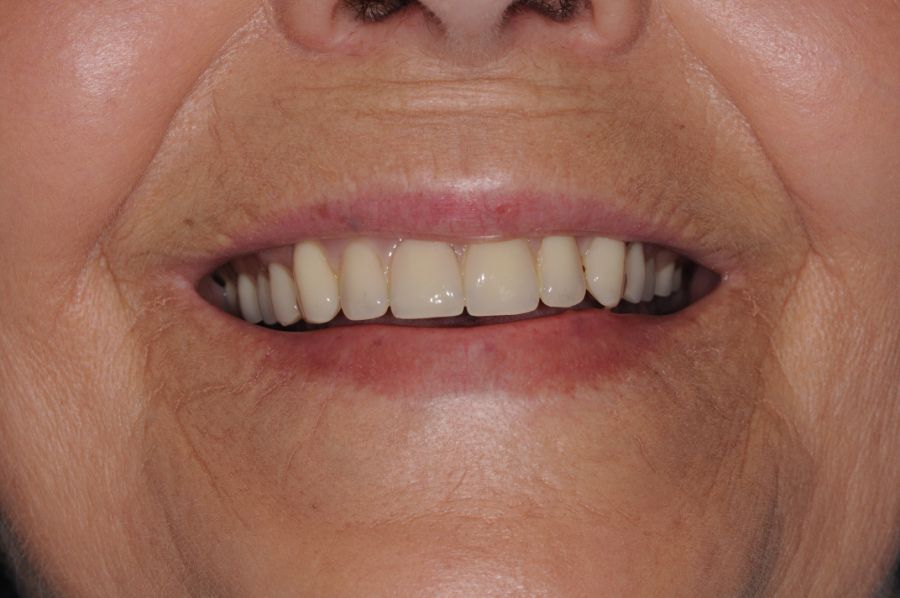 Before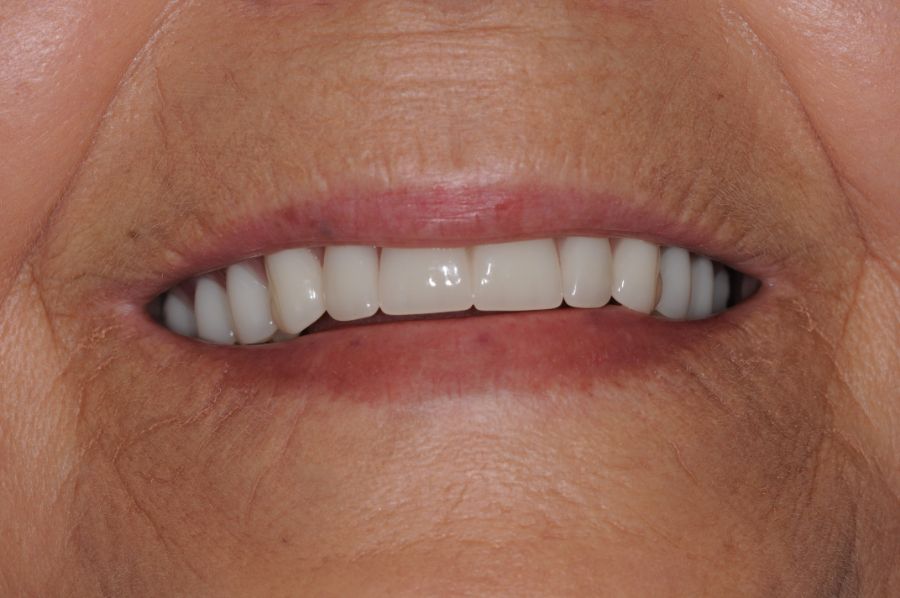 After