Root Canal Therapy – Rockwall, TX
Instant Relief for Aching Teeth
Nothing is worse than being stuck at home with an awful toothache, but putting a stop to it is as easy as calling Spillman Family Dental of Rockwall. We can use root canal therapy to save seriously infected teeth and relieve the worst dental pain, all while using a comfortable procedure that utilizes the latest techniques and sedation. With us, your hurting tooth will become a distant memory before you know it! Give us a call today so you can start feeling better right away with root canal therapy in Rockwall, TX.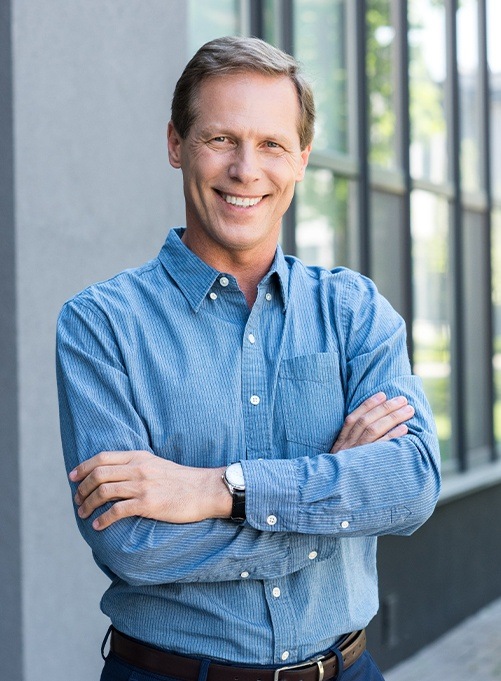 Why Choose Spillman Family Dental of Rockwall For Root Canal Therapy?
Same-Day Emergency Appointment Available
Sedation Options That Guarantee Patient Comfort
Friendly Care Provided by Dentists with Decades of Experience
Why You Might Need a Root Canal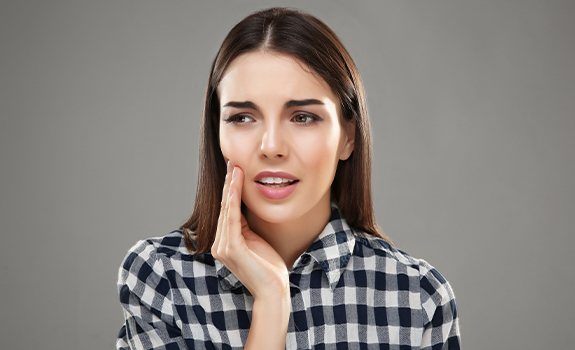 Your teeth are composed of three distinct layers: the enamel on the outside, the dentin right underneath it, and an interior bit of soft tissue called the dental pulp. If bacteria are able to reach the pulp, it can cause this tissue to swell and die, causing an increase in pressure within the tooth that is often the source of the worst toothaches. We can use root canal therapy to remove this troublesome pulp, clean the interior of the tooth, and restore it so it's pain-free and looks like nothing was ever wrong with it in the first place.
The Root Canal Process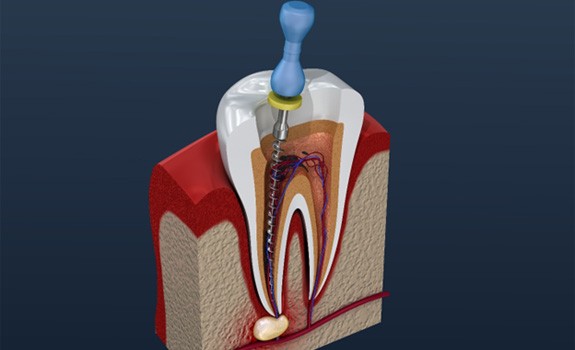 This process prioritizes relieving discomfort and saving as much of your healthy, natural tooth as possible. For this reason, we'll first ensure that you feel relaxed and comfortable before starting the procedure. Our team will administer local anesthetics to numb your mouth, that way you don't feel any uncomfortable sensations during the process. We can also provide you with several sedation options to help you relax in case you're feeling nervous or anxious about your treatment.
Once you're settled and we've thoroughly examined your mouth, we'll begin your procedure by making a small hole in your enamel. This will allow us to remove any damaged or infected tissues from within the tooth. We'll then clean and sanitize it to ensure it's bacteria-free before sealing it with a biocompatible substance. After we've topped your tooth with a dental crown, you'll be able to enjoy a fully restored and natural-looking smile. It'll feel as if you simply finished getting a filling!
The Benefits of Getting a Root Canal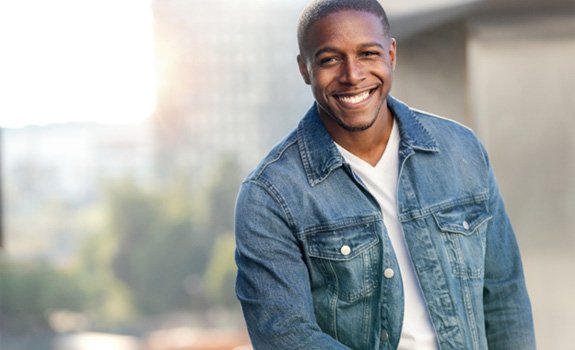 Root canal therapy is a common and reliable dental procedure for avoiding more serious oral health issues. Here are some of the essential benefits you can expect from the treatment:
Eliminate discomfort & bacteria : This process will effectively clean out any harmful particles that are causing discomfort. That way you can return to having a healthy, comfortable smile in no time.
Tooth preservation : You can repair your natural tooth instead of extracting it. This will save you time and money from the various issues that can come with a missing tooth.
Pain-free treatment : While many people find this procedure daunting, it's virtually painless. You may even find it to be as comfortable as a tooth filling, and it won't require as much recovery time as an extraction.
Understanding the Cost of Root Canals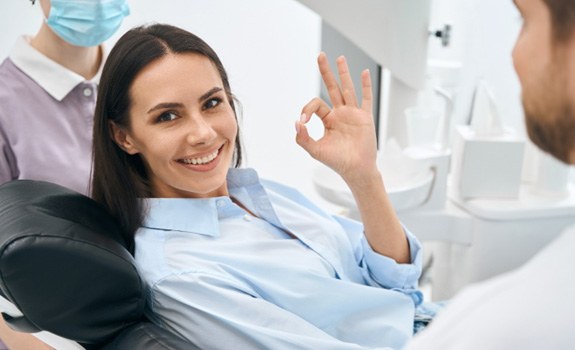 If you are concerned about the cost of treating a decayed or damaged tooth that requires root canal treatment, there are a couple of concepts you need to understand. You should never delay root canal therapy when it's deemed necessary. The longer you put off treatment, the more expensive it will likely be. Also, preserving your natural tooth is the best option you have available. Our team would be happy to go through the financial details with you and work to make treatment affordable.
Factors That Can Affect Root Canal Cost
When calculating the cost of root canal treatment, we consider several factors, including the location of the tooth being treated, the severity of the decay or damage, and the type of restoration that is needed.
Molars, which are located in the back of the mouth, usually cost more to treat than front teeth because they have multiple roots. These teeth are more challenging to clear out, leading to a higher cost.
Is it Cheaper to Pull My Tooth?
Instead of going through the expense of saving your natural tooth, you may be wondering whether extraction would be smarter. In almost all cases, it's best to keep the tooth rather than replace it entirely. Dental implants and dental bridges can come with a significant cost. For implants, the high cost upfront can be overwhelming, but bridges require replacement every 7 years or so, adding up over time. If you are looking for the most cost-effective procedure, it's probably going to be root canal treatment!
Does Dental Insurance Cover Root Canal Treatment?
Although there may be some exceptions, dental insurance generally covers part of the cost of root canal treatment. In fact, it usually pays about 50 percent of the overall price. This means that you'll need to pay the other half, but your insurance benefits can save you significantly! When we put together your treatment plan, we will examine your insurance policy closely, looking for ways to maximize your coverage and save you as much as possible.
Other Options for Making Root Canal Treatment Affordable
If you don't have dental insurance, you may think your opportunities for saving on dental procedures are minimal, but we offer an alternative: the Cigna Plus Savings Plan. You have the option to sign up as an individual or as a family, but both plans lower the cost of root canal treatment. Also, for your out-of-pocket portion, you can apply for financing, breaking down the amount into monthly payments.
Root Canal Therapy FAQs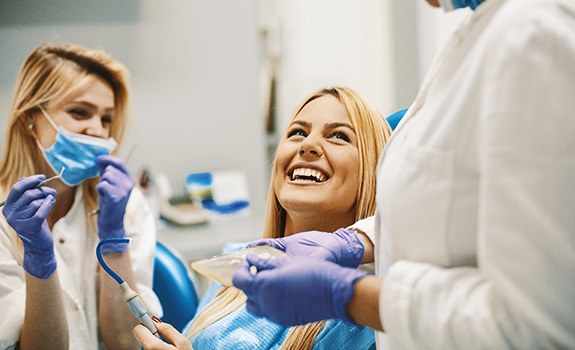 At your last routine checkup, did your dentist in Rockwall say you need a root canal? It's completely normal to feel anxious about the procedure, especially because there are many false rumors surrounding the treatment. Fortunately, we're here to set your mind at ease by helping you understand what to expect. Before your appointment, feel free to review our answers to some frequently asked questions below.
How Much Pain Is Normal After a Root Canal?
The root canal procedure itself shouldn't hurt, but you may experience mild soreness and discomfort over the next few days. Don't worry – these symptoms are temporary and should go away over time! You can manage your discomfort with over-the-counter pain medication and cold compresses. While you heal, you should avoid chewing hard foods as it can worsen the pain.
Can I Eat Before a Root Canal?
It depends! If you're receiving dental sedation for your root canal, you may be asked to fast a few hours beforehand to lower the risk of nausea caused by the sedative. Patients who aren't undergoing sedation can usually eat a healthy meal a few hours before the procedure. Just make sure your teeth are clean by the time of your appointment! It's worth noting that you should avoid alcohol for 24 hours following your treatment as it can negatively affect the local anesthetic used to numb your mouth.
What Happens If You Wait Too Long for a Root Canal?
Because teeth cannot heal themselves, an infection will only get worse without root canal therapy. That's why it's strongly recommended that you schedule your procedure shortly after your dentist says that you need one. Some patients may not think treatment is necessary if their tooth pain went away. However, that often indicates the infection has destroyed the tooth's nerves, making them unable to register pain. If you wait too long to get a root canal, the infection could spread to the rest of your body, causing systemic illness. In some cases, the tooth may become damaged to the point where extraction is the only solution.
Are Root Canals Safe?
Of course! Root canal therapy has an incredible success rate of about 95 percent. Teeth that receive this treatment are often capable of lasting for the rest of the patient's life. Although, like with any procedure, there's a very small chance that some bacteria remaining in the tooth after a root canal can cause reinfection. For that reason, you should let your dentist know if you're experiencing any usual symptoms following your procedure. Some effects to look out for include intense swelling, pain, or fever.