Full Mouth Reconstruction – Rockwall, TX
Expertly Repairing Your Entire Smile
Fixing a single tooth with a filling or dental crown is one thing, but what can you do when all of your teeth are suffering from extensive damage or decay? When you have multiple dental issues to deal with, it can be hard to know where to start. Luckily, Dr. Spillman can completely restore your grin with a customized full-mouth reconstruction. To learn more about this procedure and how it can save your smile, contact us today.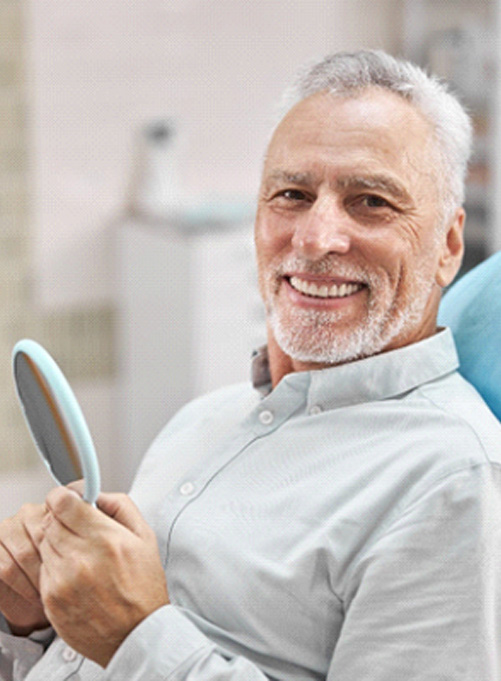 Why Choose Spillman Family Dental of Rockwall for a Full Mouth Reconstruction?
Dentists with Decades of Experience
Dental Implants Placed In-House
Fully Personalized Treatment Plans
Is Full Mouth Reconstruction Right for Me?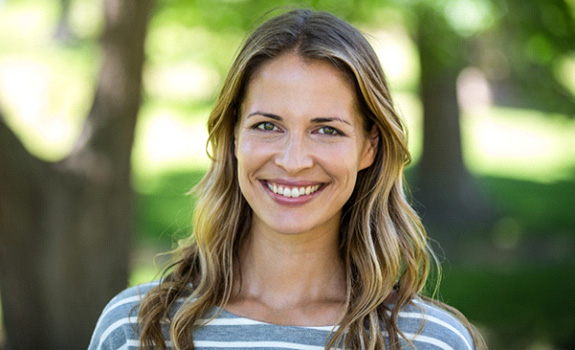 A full mouth reconstruction is considered necessary when most or all of the teeth in your mouth need repair. It's a process that combines multiple carefully chosen procedures to address your specific dental issues. Dr. Spillman may recommend a full mouth reconstruction for a variety of reasons, such as:
Severe trauma caused by impact to the mouth
Multiple teeth that are badly decayed or worn down
Advanced gum disease that has caused your teeth to come loose
Of course, the only way to know for sure whether you need a full mouth reconstruction is to visit our office for a consultation. Once we know more about your situation, we can give an appropriate recommendation for restoring your oral health.
The Full Mouth Reconstruction Process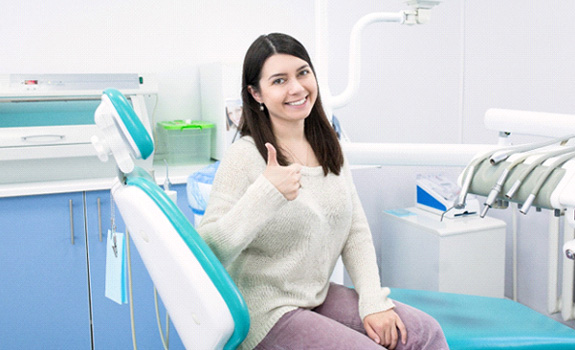 After a comprehensive examination (which will likely involve taking a number of X-rays), we'll give you a list of procedures that can be used to fix your grin. We may suggest dental implants or bridges if you have any teeth that need to be extracted or are already missing. Crowns and other restorations might be recommended to repair the teeth that are still worth saving. Other procedures may be included in your treatment plan based on your particular needs.
Once a plan has been decided on, the next step is to carry it out. Our team will work to restore your smile as quickly as possible, and we'll always take the time to listen to any questions or concerns you might have during the process.
Understanding the Cost of a Full Mouth Reconstruction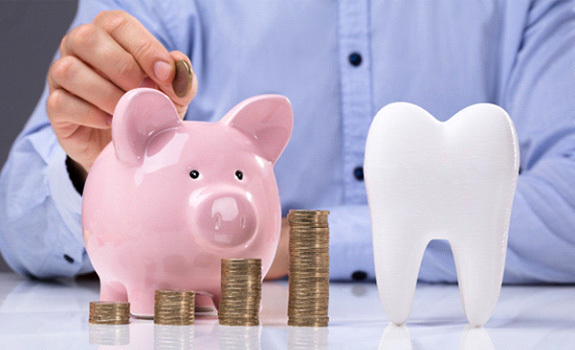 It's probably no surprise that the cost of a full mouth reconstruction can vary from person to person based on what procedures are used. Our team will always make sure that you have an idea of how much each step of the treatment will cost so that you can plan your budget accordingly. We can offer a variety of options for making your reconstruction more affordable; we can file claims for many different insurance policies, and we can help you apply for a financing plan through CareCredit that lets you break up the cost of your care into smaller installments.
Full Mouth Reconstruction FAQs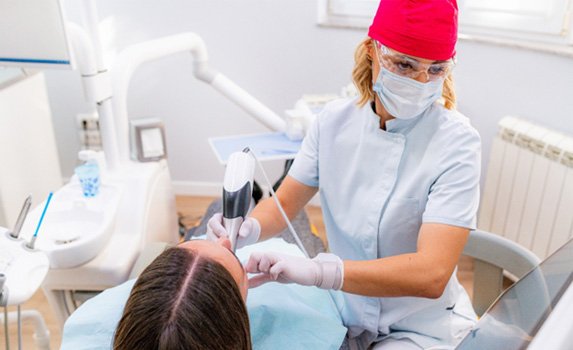 You may well need a full mouth reconstruction in Rockwall. After all, treatment could do a lot to repair a damaged smile! Still, you should learn about the procedure before you commit. Doing so will help you confirm whether this option is right for you. To that end, Spillman Family Dental is here to help: listed below are some answers to frequently asked reconstruction questions. Read them over to see what a reconstructed smile is all about. Otherwise, feel free to call our office for additional details.
How Long Does a Full Mouth Reconstruction Procedure Take?
Since full mouth reconstructions can include various procedures, their timelines often vary. Some only take a few weeks, while others need a year or more to wrap up. That said, you'll get a good idea of your treatment time by assessing a few factors. These include the following:
Number of Teeth Treated – Naturally, a reconstruction will need more time if it treats a larger number of teeth.
Needed Services – If you get a lot of restorative procedures, the treatment will take longer.
Procedure Overlap – Timing will also depend on whether the procedures are done at the same time or consecutively. In the latter's case, the reconstruction will involve a longer duration.
Does Getting a Full Mouth Reconstruction Hurt?
You can rest fully assured: a full mouth reconstruction is a painless dental service. It won't cause discomfort to your teeth, gums, or the rest of your oral cavity.
For starters, the dentist will numb your mouth before surgery. That way, procedures like crowns, implants, and bridges won't be painful. Instead, the most you'll experience is slight pressure from the dentist's work.
Furthermore, sedation dentistry is also an option. Whether you opt for nitrous oxide or an oral-conscious sedative, it'll keep your nerves at bay and relieve pain. You can thus count on it to make care even more comfortable.
How Long Will My Full Mouth Reconstruction Results Last?
True enough, full mouth reconstructions vary from patient to patient. Your results' longevity, though, will be shaped by your oral care habits. Therefore, make sure you remember to:
Practice Good Oral Hygiene – By brushing twice daily and flossing once daily, your restorations will stay functional longer.
Avoid Risky Foods & Drinks – Items like peanut brittle could chip or damage your teeth. Likewise, dark-colored beverages will discolor your pearly whites if you aren't careful.
Quit Bad Dental Habits – Smoking causes gum disease, which can lead to a reconstruction failure. Nail biting and teeth grinding can also chip your restorations.
Will People Be Able to Tell That I Had a Full Mouth Reconstruction?
Due to dental innovations and technology, full mouth reconstructions are highly lifelike. Most people can't tell them apart from fully natural teeth.
Of course, how eye-catching your results are will depend on your needs and goals. Restoring a couple decayed teeth, for example, won't draw too much attention. Meanwhile, placing veneers on all your pearly whites will change their shapes, sizes, and colors. Consequently, the change will be more drastic.
Ultimately, you should tell your dental team how subtle or dramatic you want your final smile to be.