Dentist—Rockwall, TX
Get to Know Dr. Nancy Nguyen
Dr. Nancy Nguyen joined our team in 2022, and she's thrilled to be helping patients in and around Rockwall achieve their best smiles. She would love to meet you and learn more about your smile goals, but, until then, you can keep reading to find out how she became the exceptional dentist she is today!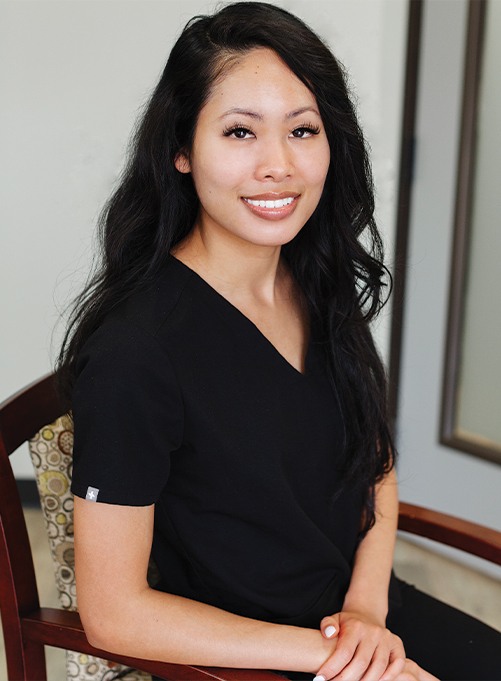 Why Did You Decide to Become a Dentist?
Growing up, Dr. Nguyen always had good experiences going to the dentist. However, she didn't actually know she wanted to pursue a career in dentistry until she completed a summer program called SPEP before her senior year of high school. This experience piqued her interest in the dental field, and the rest, as they say, is history!
Where Did You Study Dentistry?
A Texas native, Dr. Nguyen chose to complete her education close by. After graduating from UT Dallas, she attended the Texas A&M School of Dentistry. Now, she has more than three years of experience! Plus, she is certified in Invisalign, Level 1 Sedation, and YOMI (the first and only FDA-approved robotic device for guided dental surgery). To further her education, she maintains active memberships with professional organizations, including the American Dental Association, the Texas Dental Association, and the Dallas County Dental Society.
Outside of the Dental Office, What Do You Like to Do?
Dr. Nguyen's family consists of her mom, her dad, her younger sister, and her four dogs (two Boxers and two Chihuahuas). In her free time, one of her favorite things to do is teach Thai dance to children at the Buddhist Center of Dallas. Here's a fun fact about her: she used to be a figure skater!